Laureles, the Best Place to Live in Medellín and Learn Spanish in Colombia
Medellín, the city of eternal spring, is becoming an increasingly popular destination for those eager to learn Spanish in Colombia. The beauty of this city springs from its mountainous landscapes and vibrant culture, offering an exceptional quality of life for foreigners who choose to settle here temporarily or permanently. Moreover, there are many opportunities to obtain a Colombian visa thanks to the new immigration laws. One of the most prominent neighborhoods for living and studying Spanish in Medellín is Laureles, a neighborhood that is becoming more commercial without losing the essence of the city. That's why in this article, we will explore the reasons why Laureles stands out as the ideal place to live in Medellín and learn Spanish in Colombia.
Living in Colombia: An Adventure Full of Possibilities
Before delving into the reasons why Laureles is the ideal place to live in Medellín and learn Spanish, it's essential to understand why Colombia has become such an attractive destination for expatriates, digital nomads, and Spanish learners. Colombia is a country of magnificent contrasts, boasting paradisiacal beaches on the Caribbean coast, mountainous Andean landscapes, tourist deserts like Tatacoa, ancient towns, and much more. Our rich culture, our fascinating history filled with ups and downs that now propel us towards a brighter future, and the kindness of our people make Colombia an ideal destination for foreigners.
Medellín, in particular, has undergone an impressive transformation in recent decades. Once considered one of the world's most dangerous cities due to drug trafficking, this city has risen from the ashes as a modern and safe metropolis that has received multiple international accolades for its innovation and urban development. Our city offers a perfect blend of the old and the new, where skyscrapers coexist with historic buildings and vibrant parks, where condos and new neighborhoods harmoniously coexist with local and cultural districts.
Learn Spanish in Medellín: A Golden Opportunity for Your Future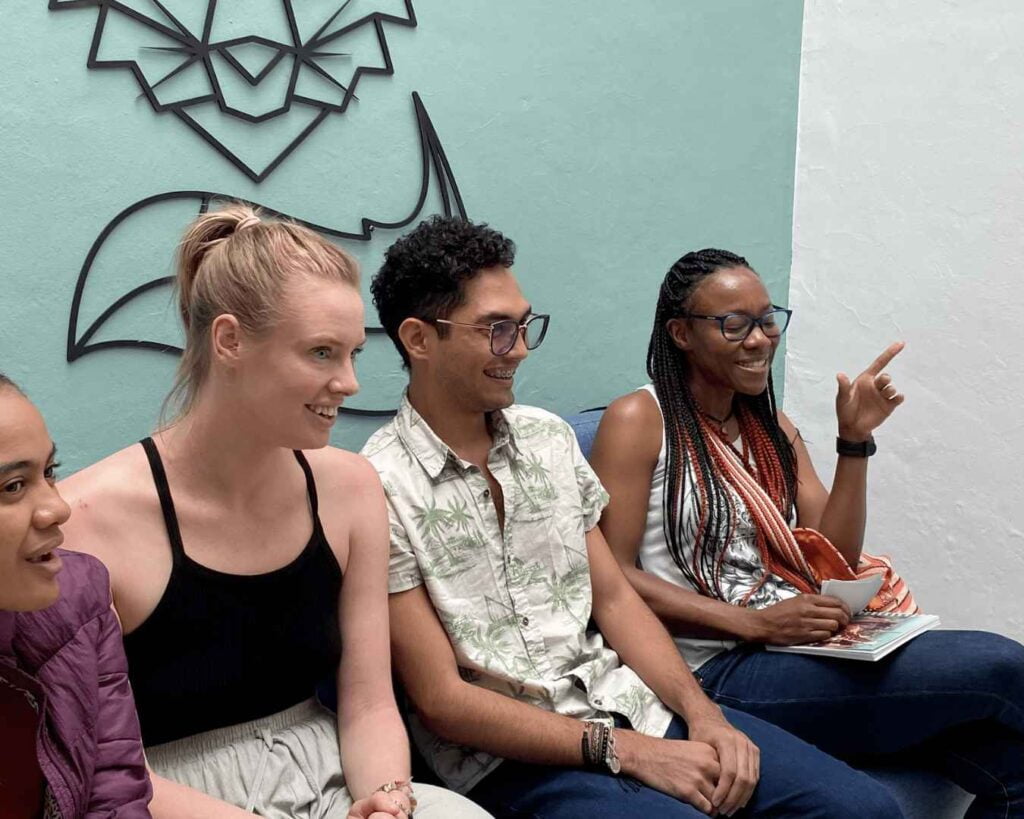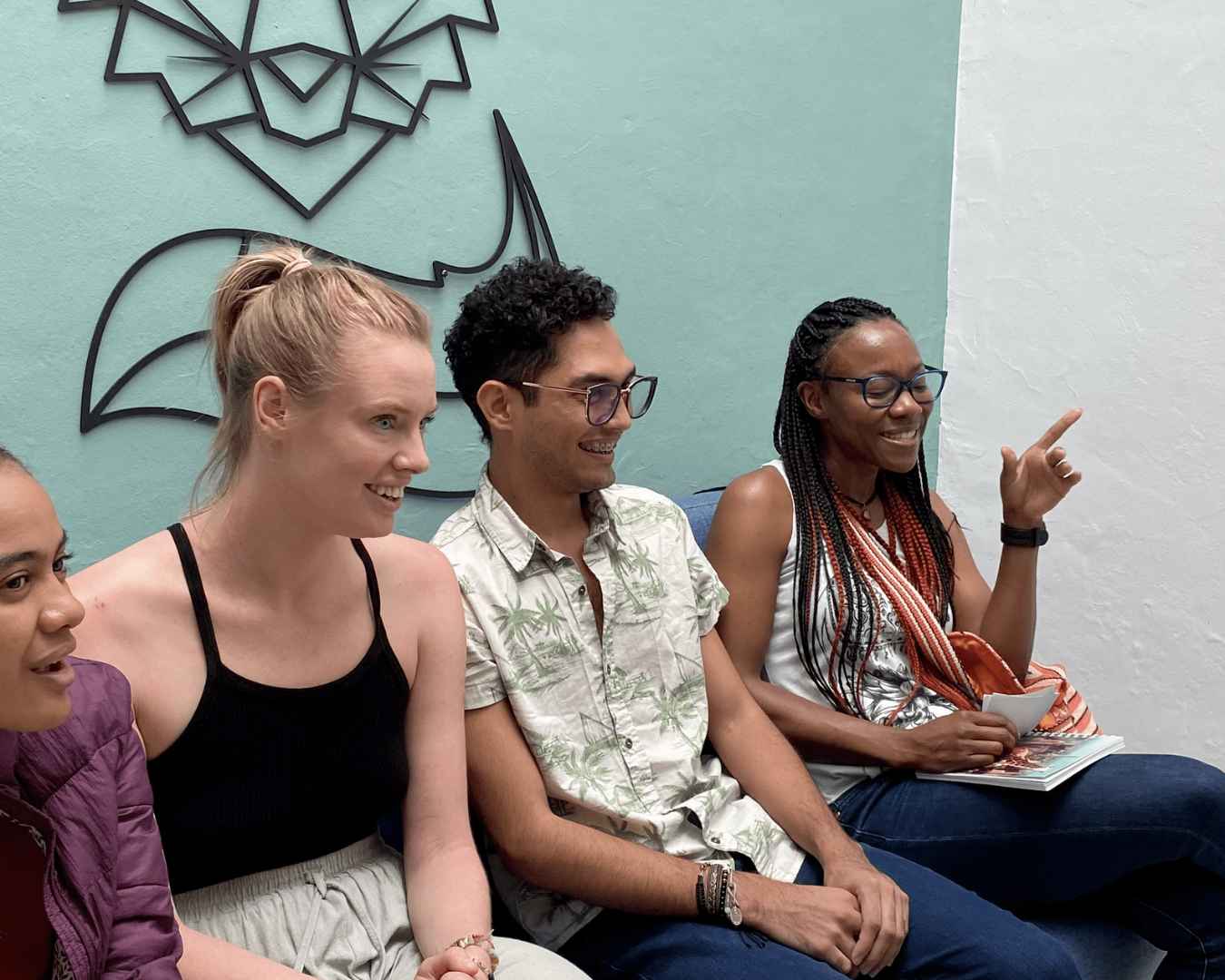 One of the main reasons why people around the world choose Medellín as a destination to learn Spanish is the quality and accessibility of education. Colombia is globally known for its clear and neutral accent, making it an ideal place to study the language. Furthermore, the prices of Spanish schools and private lessons are much more affordable compared to other Spanish-speaking countries like Spain or Mexico.
In Laureles, Medellín, you will find a wide range of educational institutions dedicated to teaching Spanish to foreigners. These schools offer programs designed for students of all levels, from beginners to advanced. The teachers are highly trained and strive to provide an effective and personalized learning experience. One such school is Mister Fox Spanish School, a space created and developed by native Colombian teachers, with a flexible curriculum that always considers the specific needs of each student. Mister Fox Spanish School is in the heart of Laureles and is the most affordable and reliable option in the area, also offering various events such as language exchanges and tastings of Colombian sweets, coffee, and fruits.
Laureles: A Special place of Medellín
Now that we have established why Medellín is an exceptional destination to learn Spanish in Colombia, let's focus on Laureles and why this neighborhood is the preferred choice for many foreigners who want to fully experience this journey.
Strategic Location
Laureles is in the heart of Medellín, making it easy to access other areas of the city. You can easily reach downtown, the trendy Poblado district (the "Zona Rosa" with many restaurants and clubs), and the popular Comuna 13 and graffiti tour by an Uber ride costing just a couple of dollars. Additionally, there are numerous cafes in the area where you can do coworking and enjoy some of the best Colombian coffee and unmatched cuisine. This strategic location is especially important for Spanish students, as it allows them to explore different places and practice the language in real-life situations. Moreover, the proximity to major public transportation routes and the metro facilitates travel to Mister Fox Spanish School, museums, parks, and other points of interest. Laureles is much quieter and calmer than other popular neighborhoods for foreigners like El Poblado, allowing you to enjoy a peaceful stay just steps away from the action.
Safety and Peace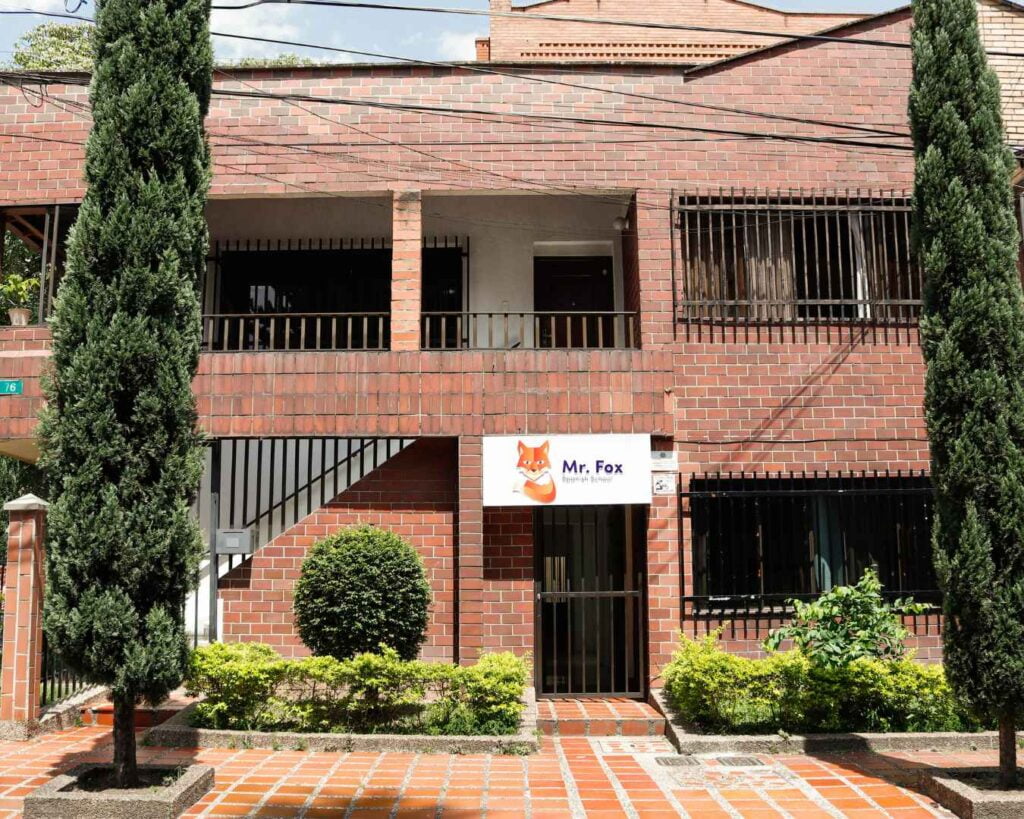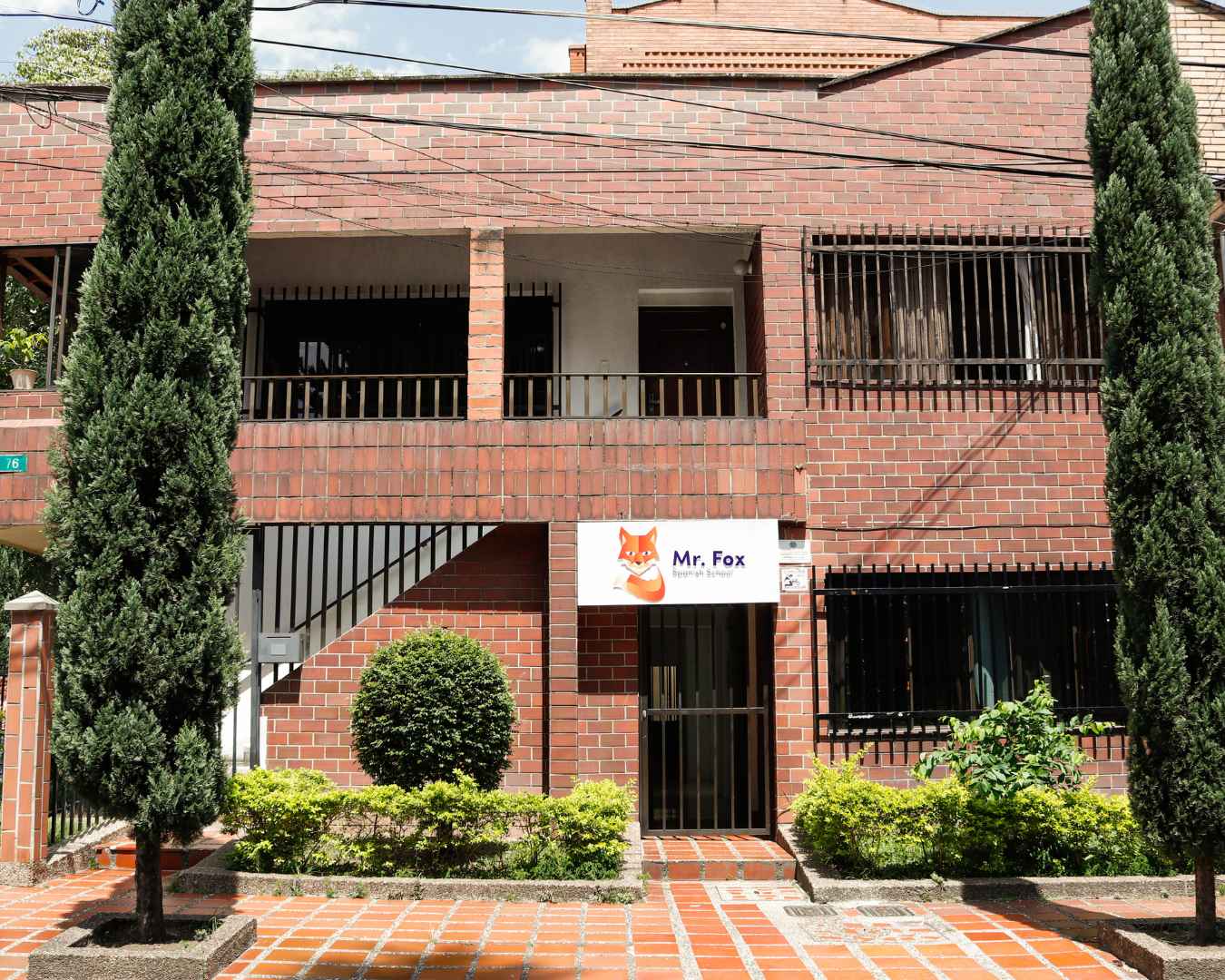 One of the most crucial factors for anyone considering living in Colombia is safety. Laureles is known for being one of the safest neighborhoods in Medellín. The streets are peaceful, and you can explore them on foot or by bicycle with confidence. Personal safety is a top priority in this area, providing a constant sense of well-being. Additionally, there is a big police station near the first park of Laureles, just one block away from Mister Fox Spanish School. For these reasons, Laureles is recognized as one of the most walkable neighborhoods, and it's flat – a valley surrounded by mountains.
Cultural Diversity
Laureles is a diverse and multicultural neighborhood that is completely LGBTQI+ friendly. It attracts people from all over the world, creating an enriching environment for Spanish students. You can interact with individuals from different cultures and practice the language constantly, without fear of discrimination. Moreover, the presence of expats and foreigners makes it easier to find services and amenities tailored to the needs of international visitors.
Parks and Green Spaces
One of Laureles' charms is its numerous parks and green spaces. The first and second parks of Laureles are ideal for chilling out, walking, exercising, or simply enjoying an outdoor day while walking your dog. These spaces are also excellent meeting points for practicing Spanish with locals or fellow students. In addition to all the restaurants and cafes in the area, each one of which seems like a small forest.
Gastronomic Offer
Laureles offers a diverse gastronomic providing that caters to all tastes. From restaurants serving traditional Colombian cuisine to places with international flavors, aromas, sizes, and prices, ranging from the most expensive to the most affordable, this neighborhood has something for every palate. You can try the delicious bandeja paisa or experiment with international flavors while practicing your Spanish at local restaurants.
Affordable Housing
Another benefit of living in Laureles is the availability of affordable accommodation. Despite rising rents over time, you can still find places much cheaper than in El Poblado area itself. You can find a wide range of lodging options, from shared apartments to private studios. Prices are much more reasonable than in other areas, allowing you to enjoy a comfortable stay while studying Spanish in Medellín in group or private classes with Mister Fox Spanish School.
Conclusion
Medellín, Colombia, is an exceptional destination to learn Spanish and experience life in Latin America. Moreover, Laureles stands out as one of the best places to live in Medellín while studying the language at schools like Mister Fox Spanish School. Its strategic location, safety, multicultural atmosphere, green spaces, and gastronomic offerings make this neighborhood a perfect choice for students, digital nomads, and expats alike.
If you are looking for a unique Spanish immersion experience in Colombia, look no further than Laureles in Medellín. Here, you will find a perfect balance between language learning and quality of life, all in a friendly, discrimination-free, and welcoming environment that will make you feel at home while immersing yourself in Colombian culture. Come to Laureles and discover for yourself why it is the ideal place to live in Medellín and learn Spanish in Colombia!